Posted by SLN Staff on May 25th, 2016 | 0 comments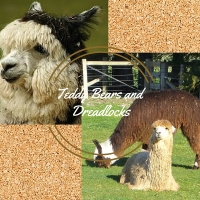 Teddy Bears and Dreadlocks Have you ever seen an alpaca and thought, whoa. That looks different than the one I've seen before? There's actually only two types of alpacas; suri alpacas and huacaya alpacas. Suri's fleece's look like dreadlocks and huacaya's have the fluffy qualities of a teddy bear! Here we looked around the web to find a couple of great resources that explain some history...


Posted by SLN Staff on Jun 26th, 2015 | 0 comments

Alpacas are interesting animals. They are small, hardy and easy to keep in a commercial farm. We are going to talk about five very unusual facts about alpacas that most people haven't heard of. Anyone who has been around alpacas, probably already knows that alpacas resemble closely a miniature form of camel or llama. They are small, cute, and friendly. But there are many other facts about...