Posted by SLN Staff on Apr 17th, 2015 | 0 comments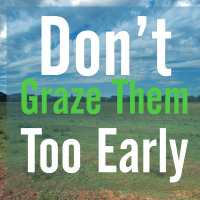 If you own a farm and have animals that feed on pasture grass or hay, managing your pasture can really increase your profit. We will talk about some tips for improving your pasture which may yield  higher profits for your farm. Due to high feeding costs, some farmers may put their livestock on pasture grass early this spring. But early spring grazing typically has negative effects on season-long...


Posted by SLN Staff on Jul 16th, 2014 | 0 comments

The global demand for food is increasing every day, and therefore it has become necessary to understand the sustainable feeding methods of animal production and farming. In the next decade, farming animals and raising animals for production of food will become extremely challenging due to the climatic changes, scarcity of resources, and shortages of food and water. Animals should not compete...